Six lovely new designs.
Bluebells, Cuckooflower, Stitchwort, Sorrel, Dandelion & Violets.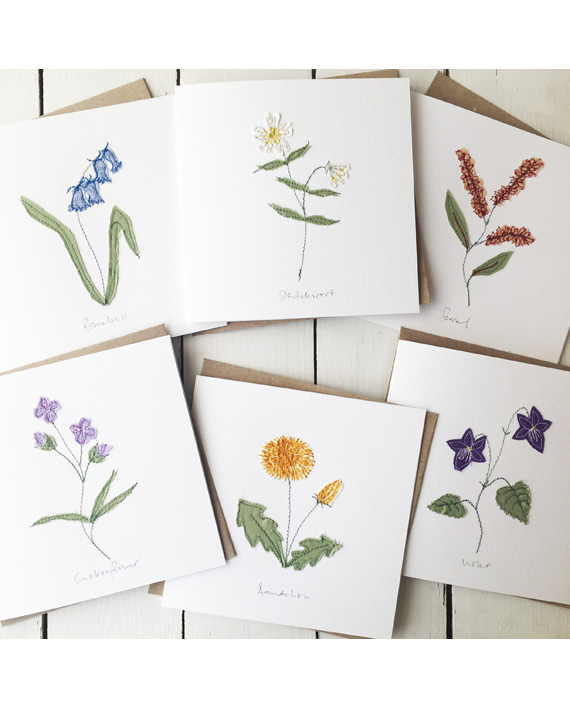 I was asked by Danielle at Charlie Luxe Vintage to contribute to her February blog about botanical creativity in Spring. Click here to take a read and learn a little more about my inspiration and how it has developed!
** W O R K S H O P S **
Would you like to have a go at freehand machine embroidery? I have two places available for my workshop on 23rd February based in the village of Waldron, East Sussex
Click here for further details
We continually update the store with new designs & products, so please return to see something new.
* View our latest collection of LUXURIOUS SILK SCARVES!*
Visit Sarah on Instagram @Sarahbecvardesign where you can follow her
design process from inspiration & design ideas to the finished product.
*
 CARDS TO INSPIRE. BRING JOY. SEND LOVE
Sarah has been creating freehand embroidered designs for 25 years & has been designing,
making and distributing handmade cards across the UK & abroad since 2000.
Fabrics are beautifully stitched using imagery such as flowers, birds & embroidered text with a hand written greeting on each card.
Her product line has increased to feature her freehand embroidery on beautifully made pouches and makeup bags, even her sketches and paintings have been printed onto silk in a gorgeous new range of silk scarves.
Sarah has designed embroidered Christmas card ranges for WH Smith & several corporate clients & has produced
fabric & wallpaper collections for British & US furnishing companies.
She has worked alongside a British fashion designer assisting at 3 London Fashion Week shows & within his studios.
Sarah gained a Fashion & Textiles degree at Winchester School of Art & her studio is based in East Sussex.
DELIVERY IS £2.50 or FREE WITH A MINIMUM SPEND OF £20